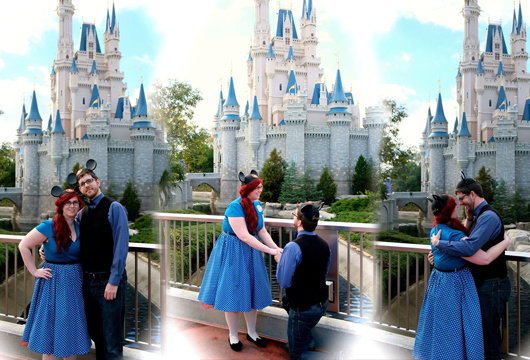 Many little girls, from a young age, dream of their fairy tale wedding proposal to their very own Prince Charming. Where it will happen, what the ring will look like, or what will be said. For a Disney nerd, the "where" can only be at one place: a happy place, a magical place, a Disney place.  Some of us have specific areas in mind.  Some of us want it to happen during a certain show or perhaps on a favorite ride.  We hope for it. We wish for it. For this Disney nerd, it was more perfect than I could have ever dreamed possible.
What started off as a Walt Disney World vacation to celebrate my 30th birthday ended in a trip celebrating our engagement.   Jason, my fiancé, completely surprised me.  I didn't let myself think about the possibility beforehand. It was my birthday and Jason's first trip to my favorite place. I was going to enjoy the vacation for those things.
The day of my birthday there were extra magic hours (morning) in the Magic Kingdom (my very favorite place in the world!) We woke up early and got ready for our day in the parks. We had planned on dressing dapper, with new outfits, to celebrate my birthday.  Unfortunately, it was supposed to be the rainiest day of our trip, but I wasn't going to let that get me down.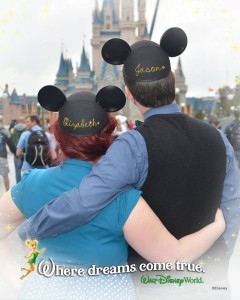 On a dreary day in February, there are not many people in the Magic Kingdom. The cast members were friendly, as always, and thanks to my "Disney birthday button" wished me a happy birthday and helped make me feel special.  We had lunch in the Be Our Guest Restaurant and took many photos with our Memory Maker.  The rain had finally let up and Jason got us front row spots for the Festival of Fantasy parade, where many of the princesses wished me a happy birthday from their floats.  We had one last fastpass to use before we had to jump on the monorail to make our dinner reservation in Epcot.
After the ride we walked back towards the Castle. I wanted to see Cinderella's Wishing Well before we left the Magic Kingdom.  But as we headed towards the well, it became apparent that due to the crane being out, the pathways were blocked.  (A little Disney confession: I had never seen the well before.  I found out about it before this trip and had been looking forward to seeing it for months.)  This got me down. I tried not to let it bother me, but it did. So I sadly started to cross the bridge so we could leave the park.
It was at this point that we stopped on the bridge. Jason wanted to take some pictures with the Castle.  The sun had finally come out and the sky was beautiful.  There was also a show going on in front so there were hardly any other guests around.  He called to one of our friends to take our photo.  I faked a smile (I was still sad about the well) as he took a couple of shots.  Jason went over to see them and asked for a bit of a different angle for the photos.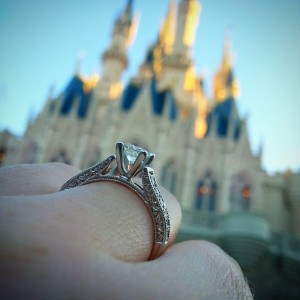 Jason then walked back over to me, grabbed my hands, and got down on one knee.  I was completely surprised and couldn't believe that this was happening. He placed the most beautiful sparkly ring on my finger. My brain couldn't focus on all of his words; I was too busy pulling him up off the ground so I could embrace him.  Our friends were still taking pictures; people had started to take notice and stopped to watch us. But for one magical moment we were the only two people in the park. It was just me and Jason and I didn't notice anything else.  The tears poured down my face as he asked me to be his happily ever after.  And I said yes.
I want to remind everyone to never stop dreaming. Don't stop wishing on stars. The dreams that you wish, will come true. Happily ever after is out there; if you have the patience to wait for it. You just have to keep on believing.  Jason did everything in his power to make sure that my day was special, that there was magic. That everything was perfect. I am truly the luckiest girl in the world and have never felt so much like a princess.
Did you get engaged or married at Walt Disney World or any other Disney park? I'd love to hear your stories and see your photos in the comments below.